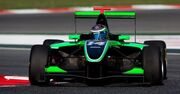 Status Grand Prix
is an Irish/Canadian motor racing team that is notable for competing in the
GP3 Series
.
Status GP signed up for the inaugural series of the championship, with drivers Robert Wickens, Ivan Lukashevich and Daniel Morad. They managed to finish second in the championship, with both Canadians scoring victories (Wickens won at Hockenheim, Spa and Monza, while Morad won at Silverstone). Lukashevich was the unluckiest driver, as he failed to score any points at all during the season.
2011 saw the team sign two new drivers - Alexander Sims and António Félix da Costa. Sims and Félix da Costa won one race each, at the season openers and closers. Lukashevich, who had been kept by the team, continued his bad luck as he failed to score again and he was dropped for the following season.
2012 saw a complete change as Status GP signed Marlon Stöckinger, Kotaro Sakurai and female driver Alice Powell. Stöckinger scored an amazing victory at Monaco, while Powell managed to avoid having zero points in the final standings by scoring at the Monza finale. Sakurai was replaced mid-season by Scottish driver Lewis Williamson.
The team turned Canadian for the 2013 campaign and signed new drivers Jimmy Eriksson, Adderly Fong and Josh Webster.
Series results
Edit
(key) (results in bold indicate pole position; races in italics indicate fastest lap)
Year
Chassis
Drivers
1
2
3
4
5
6
7
8
9
10
11
12
13
14
15
16
Points
WCC
2010
Dallara-Renault
ESP
FEA
ESP
SPR
TUR
FEA
TUR
SPR
VAL
FEA
VAL
SPR
GBR
FEA
GBR
SPR
GER
FEA
GER
SPR
HUN
FEA
HUN
SPR
BEL
FEA
BEL
SPR
ITA
FEA
ITA
SPR
86
2nd
Robert Wickens
2
4
11
21
2
16
9
5
1
5
4
2
1
11
2
1
Ivan Lukashevich
19
19
19
27
16
25
19
Ret
17
13
25
18
Ret
13
19
14
Daniel Morad
Ret
22
5
5
19
12
7
1
Ret
9
21
12
Ret
16
9
7
2011
Dallara-Renault
TUR
FEA
TUR
SPR
ESP
FEA
ESP
SPR
VAL
FEA
VAL
SPR
GBR
FEA
GBR
SPR
GER
FEA
GER
SPR
HUN
FEA
HUN
SPR
BEL
FEA
BEL
SPR
ITA
FEA
ITA
SPR
50
5th
Alexander Sims
8
1
Ret
Ret
6
2
2
3
12
2
DSQ
9
Ret
Ret
21†
Ret
António Félix da Costa
5
4
12
17
Ret
20†
19
9
28
Ret
11
6
Ret
11
7
1
Ivan Lukashevich
14
24
17
13
Ret
Ret
18
24
11
18
28
23
10
8
Ret
Ret
2012
Dallara-Renault
ESP
FEA
ESP
SPR
MON
FEA
MON
SPR
VAL
FEA
VAL
SPR
GBR
FEA
GBR
SPR
GER
FEA
GER
SPR
HUN
FEA
HUN
SPR
BEL
FEA
BEL
SPR
ITA
FEA
ITA
SPR
67
6th
Marlon Stöckinger
2
19
8
1
19
11
16
Ret
16
11
9
13
14
16
7
4
Kotaro Sakurai
18
12
13
20
15
13
Lewis Williamson
13
Ret
10
5
8
7
19
Ret
Alice Powell
Ret
11
11
22
18
Ret
17
Ret
19
Ret
19
20
18
12
12
8